Dads love gadgets and gadgets can make us more productive.  If you want to get dad something he will use this year try one of these cool gifts:
Perfect for dads who want to blend a digital and paper organizing system. The Moleskine Smart Planner will automatically add events to Dad's Google Calendar! What a time saver and he is sure to never miss a dance recital! This will definitely keep dad in productive mode.
If dad is always in the garage tinkering with the sprinkler system free him from his captivity by giving him the gift of the Smart Lawn Sprinkler. You can control the sprinkler from an app on your phone by setting up zones. This smart sprinkler even gathers the latest weather data and skips watering on rainy days.
Does dad love to cook? This drop scale is one of the coolest things I've seen. Instead of measuring spoons and cups you drop your ingredients in and the app for the scale tells you when you have added enough. It will even suggest alternative ingredients and if you accidentally add too much flour it will help you adjust the other ingredients so your creations come out yummy every time.
If dad is always on his phone taking pictures and sharing videos of the kiddos then he definitely needs the battery pack. Dad can charge multiple devices. This pack has enough juice to charge a cell phone twice!
Does dad consistently lose his wallet? Is he always looking for his keys? Speed up his morning routine with Tile! Place a Tile in his wallet and he will be able to locate it with an app on his phone. The Tile can even find your phone by ringing it. Dad will not know what to do with his extra time.
Oh to wake up naturally with a soft glow of sunlight. Well, we may be up before the sun but we can simulate the rising sun with the Philips Wake-Up Light Alarm Clock. Instead of being jolted awake the ever-increasing brightness of this alarm wakes you up peacefully starting your day on the right foot and with a positive mindset.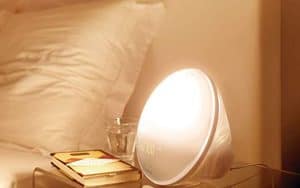 So there you have it! Are these gifts you think Dad would love? Do you think they will keep dad productive?